Addressograph® Thermal Printer Compliance Solution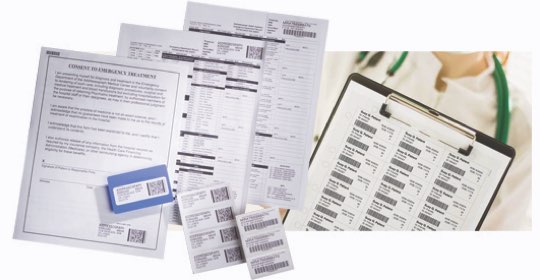 Addressograph provides OEM thermal printers for your barcoding needs, whether it's connected to an embosser or stand-alone thermal printing. Choose from several styles and sizes, from small desktop size to larger capacity thermal printers.
Resellers of:
AMT DataSouth Thermal Printers
Zebra Thermal Printers
Zebra and AMT DataSouth labels
Precision Dynamics Thermal Printer Wristbands
Thermal transfer ribbons
Addressograph can provide you the labels, wristbands and barcode scanners to accompany your thermal printer solution. We provide a wide range of manufacturer's labels and wristbands for your printing needs. To learn more about the supplies we offer, visit our Supplies page.
Addressograph also provides quality LaserBand® Healthcare laser printer sheets, Patient Chart labels (30 and 42-up counts) and Adult and pediatric wristband/label sheets.
Check out our FAQs to learn more about our products and solutions for your company.